This recently listed home at 253 Hanky Mull Rd, Nassau, NY nestled in the countryside of Upstate NY real estate, was practically built for relaxation. Featuring a hot tub on one of the home's three decks, you can relax outside in any season.
Winter provides it's own comfort and warmth with this home's stunning 9ft Bluestone Hearth in a large living room. Watch a game by the fireplace or look out the windows to see the changing of the seasons or the falling of the snow.
As a renovated Cottage, you'll have a comfortable kitchen with amenities like a with appliances including a dishwasher, refrigerator and stove. You can chill out in the summer with central air conditioning (newly installed in 2012).
Have cars that need to be covered? You're in luck with this home's 18x26ft open-front garage, as well as an additional 10x14ft garage. Plenty of storage available with a wood garden shed on your 1.8 surveyed acres.
This home will keep you warm, cool and/or relaxed any day of the year, but should you find that you want to go out to explore, you're only 30 minutes away from Lee Outlets, or Albany, NY in the other direction.
Having a place like Hand Hollow Conservation area nearby, managed by the Columbia Land Conservancy, means that you know you're in good company with plenty of open space for hiking or cross-country skiing. If you have a dog that loves to take you hiking, you will also be close to Cherry Plain State Park.
If the arts and mental stimulation are more in line with your interests, The Theater Barn is only a few minutes away from your home. Or explore some spirituality with the Sufi community that is not far from 253 Hanky Mull Rd, Nassau, NY.
Food can be a fun activity all on its own, and if this is something you love to explore, consider trying the Blueberry Hill Cafe for brunch on a Sunday morning. We hear good things about the Kendall House and Mario's, too.
However you decide to fill your days, whether it's staying home where you'll be warm and relaxed, or heading out to enjoy the freedom, open space and fun things to do in Upstate NY, Columbia County, the Hudson Valley, or Western Massachusetts, we'd love it if you would consider our services to help guide you home, whether it's 253 Hankey Mull Rd, Nassau, NY or any of our other featured properties.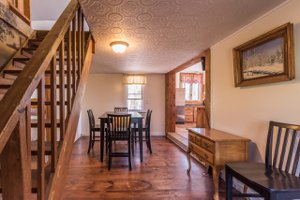 Happy Spring and happy home-hunting from Preferred Country Properties.