Buying Columbia County Real Estate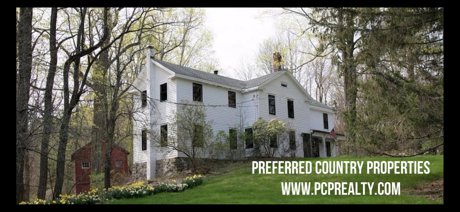 This is a huge decision, whether you've done it before or are buying for the first time. Not only is buying Columbia County real estate a financial decision that deserves careful thought for your budget and lifestyle, it also includes time and consideration for details such as privacy, neighborhood, proximity to activities and commutes.
Buying a home is a huge commitment and because of this, Preferred Country Properties, established in 1988, has honed a process to assist our customers to the best of our abilities. We recommend having a conversation to assist you in determining your top 5 needs and wants in Columbia County real estate, whether that's size, privacy, or general area. We can then use this list to send you properties tailored specifically to you. We'll help you take a look at all of your options, and then guide you in the next steps, whether you're interested in anything from the waterfront in Copake to rolling hills of Hillsdale to the town of Chatham.
Why Contacting Preferred Country Properties is Your Best First Move:
IT'S FREE. Buyers usually pay nothing for agent representation.
We can help you determine how much you can afford to buy in Columbia County real estate
We know our market "like the back of our hands" and can locate a property ideal to your needs.
We have the resources and connections to arrange multiple showings for you in one outing, versus you having to locate all homes, then contact and meet with numerous agents on their schedules.
We have access to ALL details of Columbia County real estate listed for sale. The public is not privy to all available information posted online. Listings may have multiple offers, deadlines by which offers can be received, or financing and major repair requirements NOT posted to the public.
We will lead you through the contract phase and make sure deadlines are met by coordinating efforts with mortgage professionals, attorneys, appraisers and the title company.
We know the entire house buying process and have the expertise to ease you through every step: from locating a home, to writing and submitting an offer, negotiating the best price, attending inspections, and ultimately attending Closing with you!
Preferred Country Properties- Tips For an Ideal Home Buying Experience
Pull a credit report on yourself and make sure the information is accurate. If you find errors, as often occurs, take steps to correct them as soon as possible.
Get a loan pre-approval letter from your bank or lender. This will help you begin your search within the financial parameters that work best for you and/or your family. If you don't know where to start, call us and we can give you some recommendations.
DON'T incur any new or additional debt.
Start saving money. You will need cash on hand for a down-payment and closing costs.
Pay off as much current debt as you can afford – and DON'T apply for new credit lines.
Make NO major purchases on credit - that furniture or car will be even more attractive at your new address!
Start your home search on our website for Columbia County real estate to acquaint yourself with our market, or click one of the links to the right to select Columbia county real estate by town or school district, or the larger Hudson Valley real estate area.

F

amiliarize yourself with areas by driving-by listings and schools. It costs nothing to look, and there's nothing like firsthand impressions.
Make a connection with your realtor at Preferred Country Properties
Whether you know what you want or need guidance, the first step is reaching out Preferred Country Properties as a knowledgeable guide for buying Columbia County real estate. We'll be happy to lay out a plan for your buying experience. Here are some of the questions we'll ask:
In what area would you like to live?
Is it important for you to be near schools? Shopping? Work?
Do you have a preferred architectural style?
How many bedrooms and bathrooms best suit your needs?
Is privacy important, or would some friendly neighbors be OK?
Why are you looking to buy?
What is your time frame to search and buy a home?
Is this your primary home or a vacation home?
What is the monthly payment that would feel most comfortable?
Have you spoken to a lender and to you have a pre-qualification letter?
Do you rent, or must you sell to purchase?
How can we help you achieve your goals? We don't know what we don't know, and we love personal insight into how you'd like to see this process unfold.
We can discuss the buying process: loan, making an offer, contract period, closing costs, current market conditions, review agency relationship, and we'll look through available listings in MLS with your search criteria and select the ones you'd like to see. We start with a long list of homes and properties in Columbia County real estate, and use them as guide posts to narrow your choices and remove those options that won't suit your needs. This is a much more thorough process, and uses a pyramid approach: wide selection at the bottom, building and narrowing choices until we reach the point at the top that is your perfect home.
Columbia County Real Estate - Featured Preferred Country Properties
CALL 518-392-5600 | TEXT 914-340-4051
**PREFERRED COUNTRY PROPERTIES is a full-service real estate brokerage in Columbia County NY. We specialize in Columbia County real estate but have access to all listings within the Hudson Valley, Capital Region, and the Capital District. We offer exceptional knowledge and insight so our clients can be assured they are receiving the utmost professional service contoured to their needs.
Full-Time Brokers and Staff
For A Home Buying Consultation Contact Us Below