Valatie New York Real Estate
Valatie is a village at the center of the town of Kinderhook in Columbia County. Its population was of 1,819 as of the 2010 census.
Valatie was first named Pachaquak, or "cleared meadow" by the Algonquian Mohicans, the earliest Native American settlers, who lived along the banks of Valatie Kill and Kinderhook Creek.
Around 1665, the first European settlers to Kinderhook were the Dutch who named the area "Vaaltje" meaning "little falls".
The village was incorporated in 1856 when there 9 cotton mills operating on power derived from the waterfalls. Due to bustling Main Street, was the center of commerce in the county throughout the 1800's.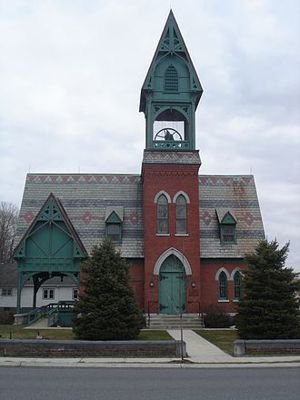 Architectural landmarks include the First Presbyterian Church of Valatie formed in 1835. The Victorian Gothic Revival-style building built in 1878 and designed by Ogden & Wright Architects. It was made of red brick with limestone trim, a slate roof and slate dormer windows. It features a porte-cochère, open bell tower and is listed on the National Register of Historic Places.
Beaver Mill Falls was location for "Haldane of the Secret Service", a film produced, directed by, and starring the famed escape artist Harry Houdini in 1923.
Founded in 1946, Valatie is home to the nation's first "Santa Claus Club" begun by 15 village veterans to provide holiday gifts for critically ill children. Since then, every Christmas Eve, Santa personally visits every child throughout the village under age the age of 10.
Mid-December every year "WinterWalk" parade and festival is hosted by the village and Valatie Economic Redevelopment Association. It features new and vintage fire trucks, marching bands from the local high school, Girl Scouts, Cub Scouts, and Valatie Free Library, begun in 1928.
Elves and marionettes march along with vintage and new vehicles, and hay rides stop along the route. A highlight is Santa Claus riding and waving from a sleigh during the parade, after which, he parks at the Valatie Community Theatre and listens to kids' requests.
The First Presbyterian Church, Wild's Mill Complex, and Nathan Wild House are listed on the National Register of Historic Places.
CALL 518.392.5600 or TEXT 914.340.4051